There have been several programs or other utilities released over the course of HA's history that have helped managers in gathering and organizing data. While none of these utilities offer any real tactical advantage, they're still very useful for keeping track of the wealth of information you can pick up throughout the season.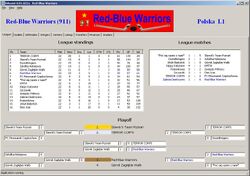 HAssist is an international tool (available in several languages) for organizing your players. The program logs into Hockeyarena using your supplied account information (which is not saved anywhere by the program), and downloads your match history, training page, player page and others to create a detailed listing of your roster. This allows HAssist to display a few very useful features, including the following:
Shows Average Player Training, Can Compare to the Previous Season's Data
If a Player's Quality and Potential Are Not Scouted, it is estimated by HAssist using the averages of the numbers it collected over time.
Keeps Records of Stadium/Financial Information, including Player Sales/Purchases
HAssist also comes with a tool to suggest Lines for your team, but it requires a lot of fine-tuning as the suggestions are based entirely on a "Skill Weight" system in the options menu.
The program is most effective when used to download information daily.
Hockey Arena allows only sponsor pack owners to download data from the site.

HALS (Hockey Arena League Statistics) is a spreadsheet tool for Microsoft Excel that collects general information on your entire league at once. The only setup required is to plug-in all of the Team IDs you want to track into the table on the first page, and the Refresh button will start the collecting.
Because it works off of Team IDs and not league-specific links, HALS can also be used for friendly cups, or just to track a random set of teams across different leagues.
This script will collect not only every team's general roster and stadium information, but display a general overview with data such as, but not limited to:
Total Players
Team Strength (Top 22, Top 17, Best Player, Best U20 Player)
Average Roster Age (Overall, Top 17, Top 22)
Total Penalty Minutes
The summary page alone makes this a handy tool to refer to when you want an overview of your entire league.